Own Malcolm Reynolds' Pistol From Firefly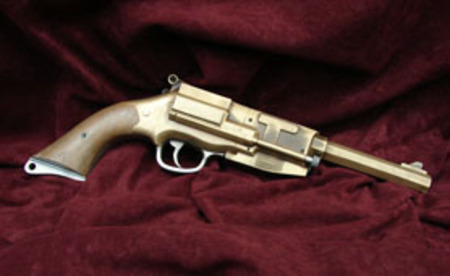 Quantum Mechanix Inc. (or QMX for short) is a fine collectible company that makes stunning recreations of sci-fi props. I love their work… particularly, their work recreating props from Joss Whedon's space western television show Firefly and its cinematic sequel, Serenity.
Because Firefly's time on the air was so short, and because its fandom is so wildly disproportionate to the number of episodes produced, Browncoats practically slaver for more information on the world in which the show was based. Strangely, it's from Firefly's incredible props and the imaginative, detail-oriented prop department that most of the information about the show's universe comes from.
So I appreciate QMX's lovingly-wrought recreations of props that only flashed up on the screen for a few seconds an episode: Firefly's props are the living relics of the 'Verse. Their latest — a recreation of Malcolm Reynolds' pistol — is gorgeous, perfectly evoking the futuristic Civil War aesthetic that so defined the show. If only Star Wars or Star Trek props were so lovingly recreated.
Official Mal Reynolds Pistol from QMx [Slice of Scifi]
Read More