Old School Phantom Pirates Model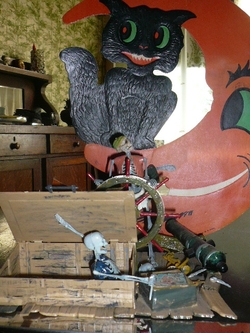 Back in the day, this pirate model from Aurora inspired more fear in me than Pirates of the Caribbean does for me now. Where was the ghost ship headed and who were these phantom pirates? The model actually has a phantom pirate skeleton that leaps out and sticks a knife into a treasure map. Now that's scary. Anyone recall what this model was called? I lost the box.
Also, that Halloween stencil in the background is seriously vintage.
Read More