Old School: My Aurora Witch
As I child, I had a huge and abiding interest in witches, and I sought out books about the Salem witch trials with a passion that other kids reserved for Halloween candy. The obsession began at the age of two when I first saw The Wizard of Oz on TV and was creeped out by the Wicked Witch of the West.
So it was no surprise that when I moved on to model making, I asked for the Aurora Glow in the Dark Witch for one of my birthdays. I love the detail of this model, even though my painting of the plastic isn't so great: the evil look on the bat's face, the squirmy snake above, the frog and spider in a web, even a small skeleton near the chopping block. And what were the keys for; what grim hell did they open?
Hit the jump for a picture of the box art.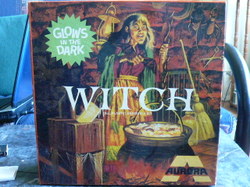 Read More