October Horror Movie Marathon Madness!!!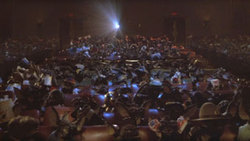 As Halloween approaches, more and more horror movie marathons and classic screenings are popping up all over the place, from Jersey City, NJ to Santa Monica, CA. And why not? For horror fans, this is our Christmas, the time of year to let your freak flag fly and celebrate your horror heritage no matter where you are.
The opportunity to see so many great horror films on the big screen (where, let's be honest, they should be seen) doesn't always happen, especially if you live some place like Columbus. Even better is that most of these films are also being shown at beautiful old movie palaces, making the experience even cooler, so here's hoping all of them see big turnouts:
(Click on the links to get all the information on these exciting shows.)
On October 19 through the 21st, Sufferin, NY's Lafayette Theater is hosting a weekend-long Horror-Thon 2007 Film Festival, which includes the original Frankenstein, Roger Corman's Masque of the Red Death (one of the all-time greats), and Plan 9 from Outer Space, complete with some of Ed Wood's home movies!
That same weekend, Columbus, OH's Drexel Grandview theater hosts The Incredible 2-Headed Marathon, an all-nighter of new and classic horror, including this year's killer sheep saga Black Sheep, Hammer's To the Devil… A Daughter, and Lucio Fulci's Zombie, with more titles to be announced. The fun starts at 10pm and goes all the way to 12pm Sunday. Good luck!
Meanwhile, the Capitol Theater in Rome, NY will give you a Bela Lugosi double feature on the 20th (The Raven and Return of the Vampire) and a screening of the original Gojira on the 27th.
That other titan of terror, Boris Karloff, gets a marathon of his own at Jersey City's beautiful Loews Jersey theater with two nights of Karloff klassics, including The Old Dark House, the first two Frankenstein films and The Mummy. This one is easily accessible from NYC.
Last but not least, Santa Monica's Aero Theater, on offshoot of the Hollywood's amazing American Cinematheque, gives you an entire weekend of classics both new and old, including the not-on-DVD The Uninvited and an all-night marathon on the 27th that includes Last House on the Left, Freaks, and Return of the Living Dead.
If you can't make any of these shows, there is one horror marathon you can catch any time, day or night: AMC's very own Monsterfest, which begins on October 22nd and goes all the way to Halloween night. That one will kick horror butt!
Read More