New Vampire Movies — "Blade" Reboot and "Daybreakers"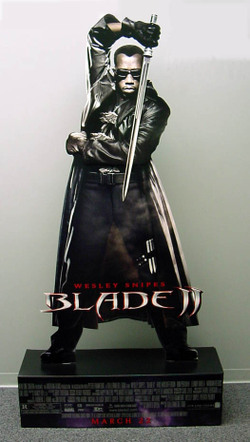 With the recently vampire invasion of 30 Days of Night it was only a matter of hours before the vampire movie rumors started flying. First up to bat is a rumor about a Blade franchise "reboot," reports Bloody-Disgusting. That makes the most sense because it's the least amount of work — New Line already has a story line and visual reference with the first three films. "Reboots" are, perhaps, the most offensive type of remake because if you didn't like the first one, then of course you'd love the new one. And if you did like the first, then here's a new version you won't like. Sure, Batman Begins works, but it doesn't have anything on Jack Nicholson's Joker from the original Batman.
The second nibble of news is for Undead's Michael and Peter Spierig's new film, Daybreakers. For a different twist on the vampire mythology, the film is set 10 years in the future, when vampires have taken over the world and they are running out of a food source. The film stars Ethan Hawke, Sam Neill and Willem Dafoe, and Ain't It Cool News has the exclusive pics.
With 30 Days of Night raking in an estimated $16 million this past weekend. You can be sure the vampire legion will be growing.
Read More