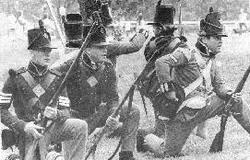 Back when I lived in Buffalo, I used to cross the Peace Bridge into Ft. Erie, a border town with a creepy old fort which supposedly was home to ghosts of soldiers who were killed there during the War Of 1812. I never saw a ghost there, perhaps because I always got there during the day when the sun was shining. The winds were still and there was ice cream for sale.
Buffalo itself was not immune to the ravages of war: it was burned to the ground by British forces on December 30, 1813. One Christmas, I was sharing a flat with a photographer pal. He was gone with his gal pal, and I was there alone in the sparsely furnished bedroom with a lumpy mattress, a 13" TV, a dresser, a wooden kitchen chair, and a lamp. I'd fallen asleep while watching the usual news of fires and mayhem in downtown Buffalo.
And then….
Sometime around 3 a.m., I felt an odd…presence, so odd that I
started from my sleep. I looked to my left. I felt the heavy pain of
the ghost before I even saw him. And what I saw was a young man dressed
in the garb of an American soldier in the War of 1812. His face was
gray and ashen, and he was breathing the heavy breaths of someone about
to die. His face and body were bloodied badly — he was hard to look
at.
When he looked straight at me with haunted black eyes, I ran the
hell out of there. Panicked, I put the lights on in the kitchen and
stayed there for about an hour — until the roommate got home. Then,
and only then, did I return to bed where the lamp burned brightly all
night long. I slept in spurts, often keeping an eye the hard, old chair
that was, thankfully, without the sad and wounded ghost.
Read More