My 13 Favorite Women Of Horror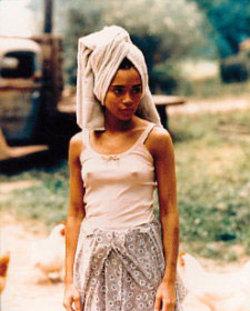 I wasn't happy with Cinematical's Hottest Horror Chicks, as
you know. So here, in no particular
order, are my 13 favorite women in horror. You can make your list as well in the comments section.
Jamie Lee Curtis, Halloween
She was young, pretty and scared. Starring in John Carpenter's atmospheric
landmark slasher film made her all the more appealing. And the look of
violation after getting those phone calls: scary!
Lisa Bonet, Angel Heart
As Epiphany Proudfoot, she was so alluring in white. And that
bloody sex scene, extended in the director's cut, made me fear for her soul,
just as it made me appreciate her beauty.
Elsa Lanchester, Bride of Frankenstein
Scary, yes. Beautiful: that, too. But it was the way she looked at the camera, full of
angst, anger and passion. That's what made her role one that will be always remembered in
the annals of horror.
Linnea Quigley, The Return of the Living Dead
Forget Edward Munch. Linnea is the real Scream, always will
be.
Mia Farrow, Rosemary's Baby
Innocent and haunted, Farrow is the picture of naivete,
perfect for the devil's wicked ways. I'm so glad original choice, Jane Fonda,
couldn't play the role (she was doing Barbarella).
Tippi Hedren, The Birds
This was the landmark debut for Hedren as the sophisticated,
icy-beautiful Melanie Daniels, and she worked hard for the money. She was
injured by those birds during filming, even had nightmares about them.
From the demanding, needy ghost/wraith in Dirt to her creepy occult ways
in Devour, Sossamon makes for the ultimate, eerie, exotic horror gal.
Sigourney Weaver, Alien
It's simple: tough, tall, intelligent, pretty girl Ripley whips
gross monster's butt. What's not to love?
Martine Beswick, Hammer's Dr. Jekyll and Sister Hyde
"The sexual transformation of a man into a woman will
actually take place before your very eyes!" For this wild, gender-twisting
role only, the exotic Beswick makes the list. Then,
there's The Offsping and Evil Spirits to help prove my point.
Forget Fay Wray. Watts and
her courageous juggling act in the face of terror stole my heart in King Kong. Without her, the U.S. remake of
The Ring wouldn't have had the impact it did. And even though I don't think it
should be remade, I'll check out The Birds in 2009 if she's in it.
I loved her brainy, sexy, tomboy looks in King's Storm of the
Century on TV, and in the underrated The Others. And Tully just breaks and warms my
heart (even though it's not horror). Nicholson should play the innocent woman in more horror flicks. But I bet she can't find one that's of the
more intellectual variety. My bet? She'd work
perfectly in one of Larry Fessenden's movies.
Kate Beckinsdale, Underworld Evolution
Beckinsdale's superheroic feats and occasionally witty banter make the
sequel much more than a special effects romp. And, despite being impaled near the end, she match wits with those Lycans and vampires alik.!
From Rocky Horror to The Hunger to The Witches of Eastwick,
I always felt Sarandon did horror very convincingly, no matter whether she was the innocent
or the naughty witch. And she drinks her own blood in The Hunger, too.
Read More