Mushroom People Attack Austin!!!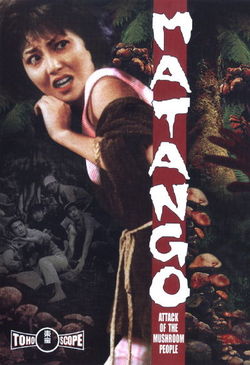 I'm sure that I'm sounding to many of you like a spokesman for Austin's Alamo Drafthouse Cinemas, but please here me out on this one. Back in June, the Drafthouse closed their original location in the downtown area when the lease ran out, with plans to re-open in a new location at the home of the classic Ritz theater on Austin's famed Sixth Street just a few blocks away. Now, the opening date has been announced with a doozy of a horror-themed opening night presentation planned.
On Thursday, November 1, the brand spanking new Alamo at the Ritz theater will open with a screening of Ishiro Honda's Matango: Attack of the Mushroom People. One of the few non-kiaju films from Honda, Matango was an attempt to make more adult-themed horror films from Toho, and it's a weird and freaky flick that finds a group of tourist trapped on a deserted island where the fungus roams free… to kill! As is the Alamo tradition, a 5 course, all-mushroom gourmet menu will be served during the film, which may be the first time in cinema history where the movie's monster was also the main course (unless Attack of the Popcorn People gets greenlit before the strike). The Ritz's first night will also include the return of the Drafthouse's famed (and free) Terror Thursdays at midnight, hosted by Zack Carlson.
Having attended a special tour of the Ritz during my Fantastic Fest visit, I can tell you that it's sizing up to be a stellar theatrical experience, with two screens (one with a balcony!) and up-to-date sound and projection (everything from 16mm to digital). On top of that, plenty of special events are lined up for the first few weeks (a screening of the new Coen Brothers film, No Country For Old Men, follows Matango), making America's finest movie theater even better. Break a leg, guys!
Read More