Movies I Won't Watch: Flight of the Living Dead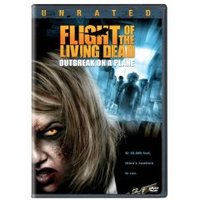 Show of hands — who saw Flight of the Living Dead ? Even if you didn't see it, were you aware that this thing existed? When Snakes on a Plane came out, there were tons of parody trailers. But this zombie-movie actually got made.
It's my business to follow weird B-movies, and yet I didn't even hear about it until last week when it came out on DVD.
I think they really missed the boat (or plane, in this case) by releasing this film 2 years after the source material flopped.
The makers of Flight should leave the quickly-rushed knock-off work to The Asylum, the evil geniuses who gave us Snakes on a Train (released 3 days before Snakes on a Plane) and The Da Vinci Treasure (released 4 days after The Da Vinci Code.)
So movie-fans, if you insist on watching second-rate entertainment titles, stick with The Asylum and check out their latest releases: this summer's Transmorphers and the upcoming I am Omega.
Read More