Movies I Finally Watched: Heavy Metal 2000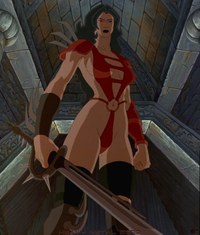 We all have those movies that we just can't get around to watching: Maybe they are too heavy (Boys Don't Cry) or maybe they're not supposed to be that good (Talledega Nights.) Whatever the reason, we put them off like homework.
For seven years I've been meaning to watch Heavy Metal 2000 . Last week it finally crawled up my Netflix queue, showed up at my house and said "today's the day." Four days later I watched it. The movie is everything I thought it would be, which really justifies the past 7 years.
I know this blog is supposed to celebrate the underdogs of Sci-Fi cinema, but the movie is a mixed bag of space melodrama, cartoonish violence and gratuitious sex. I hate to say it, but the epic animation of dragons, gun-play and half-assed mythology seems best suited to the 1970's. And like roller-disco or almost converting to the Metric system, it hasn't aged well.
The Pros: Michael Ironside, actual heavy metal soundtrack, gratiuitious nudity, unabashed adolescent spirit.
The Cons: Uneven pacing, tiresome storyline, bad one-liners, sidekick that belongs in a Kevin Smith movie, bad one-liners, inevitable comparisons to 1981 Heavy Metal.
Read More