MGM Wants to Know What You Stand For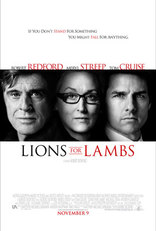 MGM is marshaling the forces of YouTube and Google to
publicize Lions for Lambs, which
opens November 9th and stars Tom Cruise, Meryl Streep and Robert Redford, who
directed.
In the tradition of 'make your own commercials' (for everything from ketchup to cars) and 'ask the candidates a question'
(your turn, Republicans), MGM has launched a "What Do You Stand For?" contest, calling for 90 second videos on the social
issues people care most about. So far, you can watch impassioned pleas to adopt a shelter animal, recycle, preserve
wildlife, and allow same-sex marriage.
Visitors to the site can upload submissions and vote for
their favorite entries. The most popular
video will be announced on the film's opening day, with $25,000 going to the
winner's charity of choice.
MGM's senior vice president of theatrical marketing, Amy
Elkins, told Variety, "We really wanted to bring out the themes of the
movie and tell a story in a relevant way. To do that, we wanted to look at the widest platform we could and build
a community around the film's message, namely 'What do you stand for?'"
In addition to building a community, MGM would probably also like to sell some tickets.
Read More