Megan Fox is in "Jennifer's Body"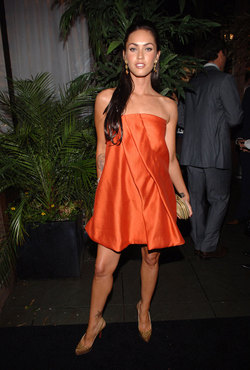 There are two major components to horror films — the scares and the girls. If you don't have the blood to backup the terror, you better have a hot chick screaming her lungs out. There have been a ton of horror hotties worth watching. We gave our run down of our favorite women of horror, and it looks like we'll have a fresh face to add to that list, as Megan Fox is teaming up with Diablo Cody in Jennifer's Body — a supernatural thriller that follows a cheerleader with a perfect life who is possessed and starts killing guys, says The Hollywood Reporter.
While Fox was smokin' in Transformers, she truly belongs in the horror genre. She's a strong woman who can fend for herself, and kill a lot of people when controlled by a demonic ghoul. The project was brought in by Fox Atomic, the same studio that brought you 28 Weeks Later. They got the hot girl part right, hopefully they'll do the same with the scares.
Read More