Meet My Scary Rubber Monsters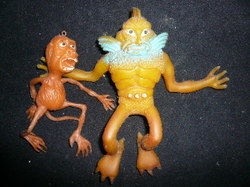 Monsterfest readers, I'd like you to meet my boys.
These rubber monsters were so very real to me when I was a kid, I'd even imagine various horror plots starring them. Sometimes, the little guy on the left would fight the Creature From The Black Lagoon-type guy on the right. Other times, they would buddy up and fight the under-the-bed monsters that would wake me in the middle of the night from my dreams. My boys were always there for me, and I often thought about writing a script or short story starring the monsters. Of course, it always ended up being not scary enough, more like Monsters, Inc. than Pumpkinhead.
Now that I'm older, I don't see the boys that often. But I'm not getting rid of 'em. They'll always be on the shelf, cherished, and occasionally starring in my own demented version of Toy Story.
Read More