Mad Max To Rage Through Australian Apocalypse Again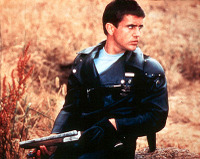 Where is our Australian messiah of the post-nuclear apocalypse? Where is Mad Max 4?
This one's been a bouncing question mark for awhile. George Miller has been talking about doing Mad Max 4 pretty much since he finished up Beyond Thunderdome but it always seemed to stall out, while Miller went on to become an accomplished and utterly charming children's film director (with classics like Babe and Babe 2: A Pig In The City under his belt).
A couple years back, the rumors came back in earnest. Miller claimed to have an incredible script. There was talk of bringing both Mel Gibson back as Max and Paul Walker (from Fast and the Furious) as Max's son.
Now, rumor has it that Gibson won't be coming back (quipping that they'd have to rename the series Fat Max to explain his weight gain in the post-apocalypse) but that the fourth film has been greenlit and Miller is currently looking for a replacement for Gibson in the role of Max.
Call me crazy, but I still think Paul Walker's a good fit. When not channeling a surfer's accent and with his hair a natural brown, he looks like a surprisingly good fit for a young Max. If they set the fourth film between Mad Max and The Road Warrior, I think he could just work.
Mad Max 4 Is Back On! [Movie Hole]
Read More