Killer Music for Halloween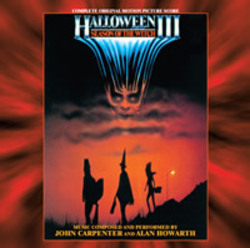 As Jason pointed out last week, Halloween III: Season of the Witch is airing twice this Halloween on Monsterfest and it's actually worth watching if you've never seen it before. You've got to keep in mind that it doesn't have anything to do with Michael Meyers (it was supposed to be the start of a series of Halloween-themed horror films produced by Carpenter, but that concept died when this one was a box office disappointment) and that's it kinda silly overall, but it works well on its own terms and also features the great Tom Atkins in one of his few leading roles.
What also makes Halloween III unique is that it's the only film scored by John Carpenter that he didn't direct himself. Carpenter has composed some of the great horror movie scores of the last 30 years, so for Halloween III, Carpenter (in association with Alan Howarth, of course) cooked up a solid sync-rock score that helped Halloween III out immeasurably and also gave it the sound and feel of a Halloween movie. With frequent Carpenter collaborator Tommy Lee Wallace behind the camera, Season of the Witch has more in common with the original film than every sequel since, but it's really Carpenter's score that helps set it apart from the rest.
Now, 25 years later, the complete original soundtrack to Halloween III is finally becoming available on CD, including the infamous "Silver Shamrock" theme, from Buysoundtrax.com. This is a limited edition pressing of only 1,000 pieces (which, in this market, is about the average soundtrack CD sale), so if you really want it then you better snatch it up quick. Carpenter's scores are always great listens, and even if you don't dig the movie too much, this is a damn good score to a pretty decent sequel that's better than its reputation. Check out on Monsterfest tomorrow.
Read More