Justice League of America Movie Begins Casting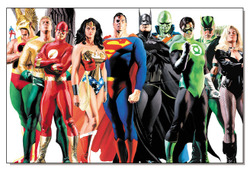 The Hollywood Reporter says that director George Miller was in Los Angeles last week to test actors for his upcoming film of The Justice League of America.
Don't be expecting any big stars, at least not for the main roles of Superman, Wonder Woman, Batman, Flash, Aquaman, Green Lantern and the Martian Manhunter. Miller is thinking in terms of a series of films, so he wants actors who can grow into their roles. (I'm sure it's also easier to get relative unknowns to sign up for multi-film contacts, too.)
Among those testing:
Adam Brody ("The O.C."), Joseph Cross (Running With Scissors), D.J. Cotrona (Windfall), Mary Elizabeth Winstead (Grindhouse), Michael Angarano (Sky High), Teresa Palmer (Wolf Creek), Max Thieriot (Jumper), rapper Common, and from the TV series "Friday Night Lights" Minka Kelly, Adrianne Palicki and Scott Porter.
I'm less interested in who gets cast than I am in seeing a new sci-fi action film from Miller, creator of the Mad Max films. He's only made three films since The Witches of Eastwick, the drama Lorenzo's Oil and the kids' movies Babe: Pig in the City and Happy Feet, so I'm hoping that this new film will get his juices flowing again.
And if you don't know what I mean, check out Miller's Mad Max Beyond Thunderdome, playing on AMC tonight at 8pm and a few more times over the weekend.
Read More