Jewel Staite Has Never Heard Of Serenity II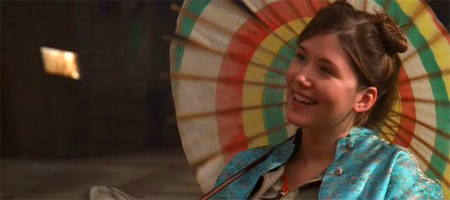 Jewel Staite, how can you break my heart so? According to the actress, who played Kayle — the nether-twixting girl-next-door engineer of the Firefly class ship, Serenity — Browncoats should not expect Serenity II any time soon, no matter what her co-star Alan Tudyk might have said during a qualude bender.
Okay, okay, okay: Lets address these Serenity 2 rumors before anything else. I have no idea what you people are talking about! Seems to me someone (with a name that starts with A and ends in LAN) said something in an interview that was misconstrued as the sequel being greenlit, which is not the case at the moment. I will never say it will never happen, because that's just blasphemy in my opinion, but it's not happening at the moment… no matter what you read on the internet.
You may remember that Alan Tudyk was quoted as saying that DVD sales on the Serenity collector's edition were so good that a Universal executive had been talking about doing more direct-to-DVD movies. According to Staite, that's not happening, and considering that Tudyk's character is dead and not expected to appear in any sequel, I would be surprised if he knew about Serenity II before the actress who played one of the surviving characters.
The Next Installment [Jewel Staite's Blog]
Read More