Iron Sky: When Space Nazis Attack!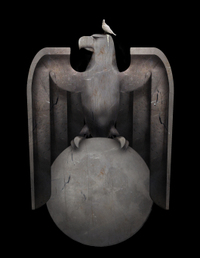 In the realm of sci-fi literature, there is no idea as deliciously overplayed as "What if the Nazis won World War II?" Ever since Philip K. Dick pretty much defined the sub-genre with The Man In The High Castle, sci-fi literature has been maggoty with futuristic Nazis and their robots. But bizarrely, Hollywood has never taken up the trend.
But fans of the alternate-history Nazi genre have a new independent film to look forward to. Iron Sky asks a simple question — "What if the Nazis went to the moon in 1945?" — and just runs with it.
The plot of Iron Sky looks wonderful. The idea is that during the fall of the Third Reich, German rocket scientists in the Antarctic fired off a missile into outer space to establish a Nazi stronghold on the Dark Side of the Moon. For the next 70 years, the Nazis laid low, building and training a powerful invasion fleet to return to conquer the Earth when the time was right.
Unfortunately, the movie is being done by the same guys who did the execrable Star Trek parody, Star Wreck, so I doubt this is going to be the goofy but tongue-in-cheek Nazi film of my dreams, in which an invasion by futuristic Space Nazis is repelled by the grim-lipped commanders of the US Army with a minimum of self-conscious irony.
Iron Sky [Official Site]
Read More