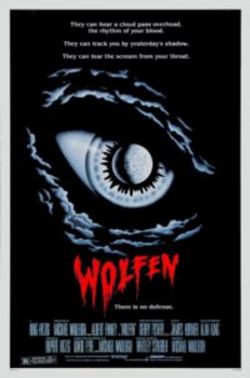 I'm not sure Wolfen was the best of the the werewolf films of its time. But Cinematical's Peter Martin was sure stirred by it. He's just written a 971-word essay/blog post of appreciation, saying it can also be seen as an environmental film and describing how Michael Wadleigh, the Woodstock concert documentarian came to direct it (he wanted to make a political film).
But it's at the end, after re-reviewing the film, that Martin hits his stride by saying, "I still think of it as a horror film, but the slow narrative pace —
not to mention the ridiculously unbelievable (in a literal sense) final
sequence and a half dozen more fake scares than any horror fan can be
expected to tolerate — lend credence to the idea that this is a
thinking man's political movie.
"Whatever you what to call it, I'll always have a soft spot for Wolfen:
for the cool POV shots, for the historic alien footage of a
now-redeveloped South Bronx, for the swooping aerial views of the Lower
Manhattan skyline dominated by the World Trade Center, and for
introducing me to Diane Venora, Gregory Hines and Edward James Olmos.
And for the idea that wolves may be stalking me as I write this."
Me, I liked The Howling more since the effects were so unusually frightening for the time. And as a midnight movie as a wide-eyed kid, gimme Lon Chaney Jr. for chills and thrills anytime. Still, I like the thoughtful passion with which Martin writes, so I'll check out the movie again to see it time has changed my mind. Of course, you can always take our Werewolf Movie Poll and chime in for yourself.
Read More