In Illinois, A Bush/Nixon Costume Ban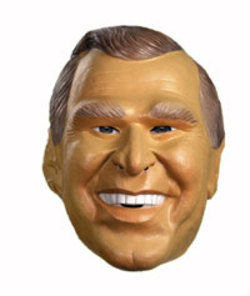 There's a lot of Halloween news today, but the most devilish item has to be the elementary school in Glencoe, Illinois, that has banned politically-oriented Halloween costumes.
Says the AP, "At West Elementary School in north suburban Glencoe, princesses and
superheroes will walk the halls. But there will be no Richard Nixons or
George Bushes. This is because school administrators have
banned costumes depicting political figures, calling them inappropriate
for 8- to 10-year-olds. Many schools prohibit costumes, while some elementary schools allow only preschool and kindergarten students to dress up. Masks
are generally prohibited at schools that allow the bizarre on
Halloween, as are fake weapons. Hatchets coming out of heads are also
frowned upon." The hatchet, I can understand. But no Nixon or Bush? That's really taking the monster out of Halloween.
"At Naperville Central High School, latex is a
no-no. There is a student and a custodian at the school with a
life-threatening latex allergy." Latex, too? Geez, Louise. Did your school ever ban certain types of Halloween costumes? Back in the day, I could wear a mask to elementary school. I think there was even a period of trick or treating from class to class.
So what do you think about the costume ban? Threat or menace?
Read More