How To Play A Woman Possessed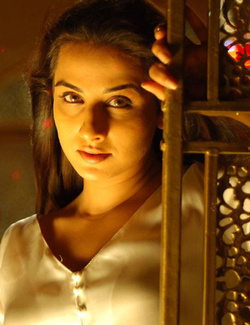 According to SIFY, it's not easy to play the role of a woman possessed. For instance, in Bhool Bhulaiyaa, popular Indian actress Vidya Balan used a kind of horrifying method acting. Says Balan, "I
had isolated myself completely for three days. When I wasn't shooting the traumatic climax, I
just walked around the haveli listening to the music and the sounds of silence
staying complete in character. Even my parents couldn't reach me on the phone."
It got worse from there. The pressure on the actress who wasn't the first choice for the role combined with the yearning to get completely into the scary idea of being possessed. Says Balan, "I just collapsed. An acu-pressure specialist
had to be called to relieve my stress. But I'm glad I did it. Nobody expected diminutive,
proper, decorous me to portray such a raging bestiality. These are the kinds of
challenges an actor looks for." It's probably also difficult to keep that horror up when there's singing and dancing Bollywood-style to deal with.
Read More