How the Corpse of Edgar Allen Poe Is Spending Halloween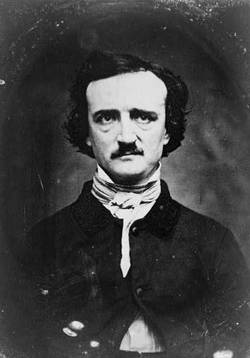 "We've got the body, and no Philadelphia body snatcher is going to come and take it!" Some cities really know how to get into the Halloween spirit.
National Public Radio reports that Baltimore and Philadelphia are fighting over the corpse of Edgar Allen Poe, progenitor of the modern horror story—the guy without whom this blog, among a lot of other things, would not exist. He's buried in Baltimore, where he spent his last years and died under mysterious circumstances in 1849, at the age of 40. But a Philadelphia literary critic argues that the body more properly belongs in the city of Brotherly Love because that's where Poe did the work for which he is most famous, including such stories as The Tell-Tale Heart, The Black Cat, The Masque of the Red Death, The Pit and the Pendulum, and even a few that Roger Corman didn't make into movies.
Understandably reluctant to lose one of its more popular tourist destinations, the Baltimore Sun shot back with an editorial accusing Philadelphia of wanting to improve an image based largely on a broken bell and greasy sandwiches. I love a good literary discussion, don't you?
The battle won't be ending anytime soon—at least I hope not, because it's pretty entertaining so far.
Read More