Horror in Real Life: Gang of Monkeys Kills Politician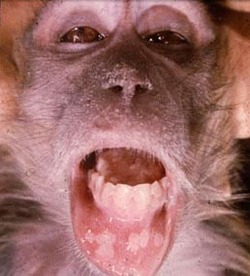 Some monkeys are scarier than others. While baboons are high on the list for me, any wild monkey in a rampaging group fills me with horror. Witness the gang of Rhesus macaques which killed New Delhi Deputy Mayor S.S. Bajwa yesterday, attacked the Indian politician with such fervor that he fell from a balcony.
Reports the AP, "New Delhi Deputy Mayor S.S. Bajwa was rushed to a hospital after the attack by a
gang of Rhesus macaques, but succumbed to head injuries sustained in his fall,
the Press Trust of India news agency and The Times of India reported.
"Many government buildings, temples and residential neighborhoods in New
Delhi are overrun by Rhesus macaques, which scare passers-by and occasionally
bite or snatch food from unsuspecting visitors.
"Last year, the Delhi
High Court reprimanded city authorities for failing to stop the animals from
terrifying residents and asked them to find a permanent solution to the monkey
menace." Hindus feel that the monkeys are somehow related to the monkey god Hanuman, so they feed them bananas and peanuts. While the story of Hanuman is complex, he's believed to be the god of wisdom, faith, righteousness, valour and strength. And, in this case, a vehement aversion for politicians.
So if you were going to make a horror plot beginning with just this plot point, how would the full story of the monkey business proceed?
Read More