Horror Icon on AMC: Jason Voorhees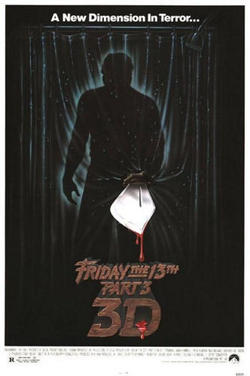 Jason Voorhees' claim to serial killer infamy is his menacing hockey mask. Time builds a reputation and for Voorhees, it's all but forgotten that Jason doesn't actually don the mask until Friday The 13th Part III. Since then, Jason's had his Final Chapter, A New Beginning, and drenched himself in The New Blood.
Friday the 13th Part 3 and 7 air tonight on AMC.
Say what you want about Jason's machete-wielding, homicidal tendencies, the guy sure has lived an interesting, if bloody, cinematic life. You have to wonder if Jason had stuck with his disguise from Part 2 – a burlap sack – whether he would have had the opportunity to kill so many people and instilled fear in countless movie fans. Can you really imagine a bunch of kids trick or treating on Halloween with a burlap sack over their heads?
Given the word of a remake, Jason's hack and slash legacy is a testament to the staying power of a homicidal maniac wearing a hockey mask. So be sure to check out Jason's first foray into sports equipment in Friday The 13th Part III. Although Part 3 won't be shown in 3-D (as it originally was), it's plenty bloody in two dimensions.
Read More