Here Come the Haunted Houses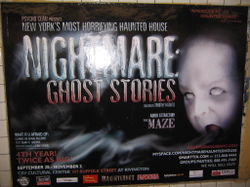 Scary posters for haunted houses are starting to crop up at construction sites and on subway walls in New York City and other places across the country. Here's an haunted house image we received from Max in Queens, who sent it directly to our monsterfestpics@gmail.com address. (You can too! Send us a pic.
It's interesting to see that posters like this are going up in public places. You're waiting for the train thinking about, oh say, making it to the bank before they close, while directly behind you…a baby vomits ectoplasm.
The haunted house advertised here gets pretty good reviews. A little detective work (thanks for nothing, Max from Queens!) finds their website here – Nightmare Haunted House. The Northeast part of the country seems to have more than its share of haunted houses, including a super one up at Sleepy Hollow. What about your neck of the woods? Tell us about a haunted house in your area or send us a pic.
Read More