Hellbound: Hellraiser 2 on AMC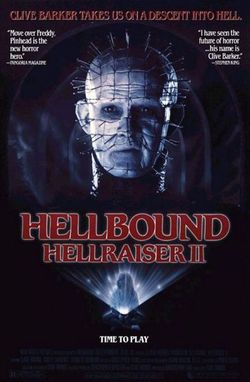 AMC is airing the first two Hellraiser films this month. Hellbound
is a direct continuation of the first film and plays better when the
two are watched in tandem. Even though the original is going the
remake route (with Barker himself scripting), its classic status is
still well-deserved.
Clive Barker's original Hellraiser came out 20 years ago and, unlike most of the horror films of its day, actually got some pretty good reviews from the critics, despite its considerable gore quotient.
What set the film apart were two things: Barker's roots were primarily in literature and theater, so the material was more complex and intelligent than the slasher films and monster movies of the 80s. Secondly, the film's characters featured adult characters for the most part, so the film dealt with adult situations like adultery, S&M, fetishes, and exploration of the unknown for sheer pleasure. Unlike a Nightmare on Elm Street sequel, it isn't about trendy music and the latest FX; it's about those things that we all desire but cannot have. That's partially what keeps Hellraiser so potent today.
With that auspicious beginning, it may have seemed that the Hellraiser series might have stood out from the rest of the pack. But with Hellbound: Hellraiser II, the series merely become showcases for Pinhead, the original film's lead Cenobite.

Hellbound is the sequel that people associate most with
Baker (he wrote the film's story and was the executive producer). While it
plays closest to the first film's theme of finding pleasure in pain and contains some excellent horrific imagery, it has none of the first film's kinkiness and unfortunately becomes nothing more than an FX showcase by film's end.
Read More