Hallucinate Wookiees With Pfizer's Vfend!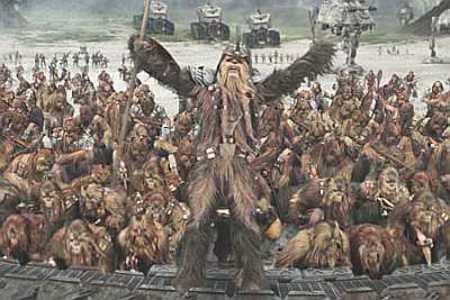 Everyone's got problems. Some people have chronic Dhobi itch… a fungi as impolite to mention at the Opera as it is to ponderously exhibit. There's numerous cures for Dhobi Itch: everything from boiling water dumped all over the groin to Pfizer's antifungal drug Vfend. But what separates Vfend from the competition?
Unlike most antifungal medicines, Vfend is the only drug with a 12% chance of making you think you are surrounded by slavering Wookiees, ready to rip your arms off.
According to a researcher at a scientific conference in Chicago last week, 12% of people who take Vfend hallucinate, and one of their patients had visions of Wookiees after popping his pills.
But despite the fact that the pharmaceutical world has been staggered by numerous high-profile lawsuits in recent years, Wall Street took the revelation in stride. Miller Tabak healthcare analyst Les Funtleyder's take on the Wookiee issue:
We make the following observations: what is wrong with seeing Wookiees? We are making no changes to our 2007 $700 million sales forecast for Vfend, and continue to believe that sales for the drug can grow at a 10% clip over the next few years. We do not see future FDA action in terms of a black-box Wookiee warning or an FDA Wookiee panel.
Especially if it's marketed right… say, at Star Wars conventions, where the gastropoid obesity of the participants, coupled with their lack of cleanliness and their fondness for Wookiees, makes Dhobi Itch ubiquitous and Vfend the treatment of choice.
"Star Wars": Chewbacca's Revenge on Pfizer [CNBC]
Read More