Guillermo del Toro to Direct At The Mountains of Madness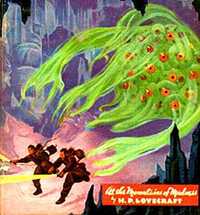 An mysterious expedition to the Antarctic. A strange race of fourteen ancient alien life forms, neither plant nor human, which bare an uncanny resemblance to the Elder Gods mentioned in the Necronomicon. A mural of strange hieroglyphics that identify the Elder Things as creatures from beyond time and space…creatures that can reduce any man to madness.
Fans of H.P. Lovecraft know the story well: it's a plot summary of At The Mountains of Madness, one of the most important stories in Lovecraft's Cthulhu Mythos. It's never been made into a film before, although John Carpenter's Lovecraft tribute In The Mouth of Madness bases its title upon it.
But we may soon see a proper adaptation of the story: rumor has it that Guillermo del Toro, director of Cronos, Pan's Labyrinth and Hellboy has negotiated with Universal Pictures to make At The Mountains of Madness his next picture.
As a huge Lovecraft fan (my other blog, Ectoplasmosis, celebrates Cthulhu Cthursday every week) I think del Toro is an excellent choice for directing a Lovecraft film. His Hellboy films are heavily Lovecraft inspired, and Pan's Labyrinth — which I think is excellent, though not genius — shows that he can, when he wants to be, a ponderous, idea-focused director with a great eye for monster design. That's just the kind of director a Lovecraft film needs.
Guillermo del Toro's Next Project is 'At the Mountains of Madness'? [Cinematical]
Read More