Graphic Novel Fragile To See Silver Screen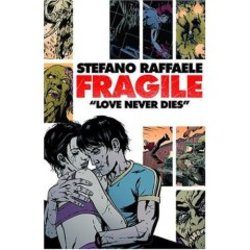 Looks like Stephano Raffaele's Fragile is going to the big screen, according to Variety. Here's the deal: "'Fragile' gives me the opportunity to explore the horror we're used to
in the genre but set in a unique post-apocalyptic world where zombies
aren't the monsters anymore," said Eduardo Rodriguez, who helmed Dimension's "Curandero," which was written and produced by Robert Rodriguez.
So what's the plot? "After nearly a hundred years of service, the Mercy Falls Children's
Hospital is closing its doors for good. During the next three weeks, the remaining patients will be
transferred to London hospitals. But a series of rainstorms has grounded the helicopters in charge
of transporting the patients and a bizarre case of children's bones
breaking for no apparent reason are making everyone afraid of something
intangible, invisible. Something that shouldn't exist. Something full
of pain. And hate."
Ooo: hate-filled zombies! Can't we all just get along? Who's read Fragile? Is it worthy?
Read More