Get Your Tickets to the Creepshow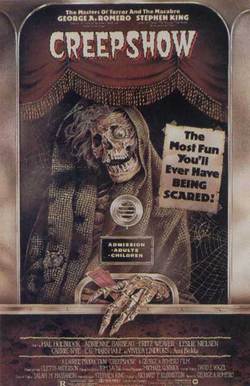 Creepshow is an example of everyone working at the top of their game and making the right decisions at the right time. It's absolutely a modern classic and is one of those "document" films that define an era and act as a milestone for the next.
Its melding of comic books and film is exciting and unique and it pulls off the impossible trick of reminding old folks about the comics they loved as a kid while simultaneously engaging a new generation with a love for trashy horror and serial story-telling.
Want proof? Amazing Stories and The New Twilight Zone popped up in response soon after. That's right, I'm giving Creepshow credit for the return of the Twilight Zone.
If you've never seen it, I'm not sure whether I pity all the years you've lost, or envy all of the excitement you are about to experience.
Catch it before the Smithsonian Institute seals it away for themselves!
AMC is showing them this month. In Creepshow 2, you'll get to see: Leslie Nielsen shouting, Stephen King acting, Old Chief Woodenhead chopping, a crate you don't want to open – and roaches, roaches, roaches.
Read More