"Frontière(s)" Gets Horrrofest Release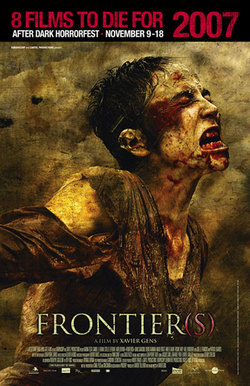 The French are seriously messed up. While paving the way in the 60's with the New Wave films of Godard and Truffaut, the French have been producing some terrifying films, mostly from Alexandre Aja (High Tension). But there might be a new horror gun in town as Xavier Gens' Frontière(s) will be a part of this year's Horrorfest, and the new poster promises the film will be gritty and disturbing.
The film follows a quartet of supple youngsters who steal a large sum of money during Paris riots and head to the Danish boarder. They stop along the way and check into a hotel that is too good to be true. Obviously there's nothing straight about easy hot women and free rooms right? It turns out the hotel is run by a bunch of Neo-Nazis; you can figure out the rest. Check out the trailer before heading out to Horrorfest.
Read More