Free Simpsons Halloween Game!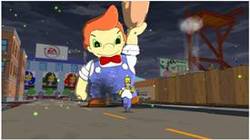 One of the more anticipated games of the big fall season is Electronic Arts' The Simpsons Game. Basically, it's a satire of the way we play games and of the weird characters we've met in the last 35 years of playing video games. Since it's written by the same folks who write The Simpsons TV show, it should be good for at least a few yucks.
Today, you can get a Halloween-themed game level for free via your Xbox 360 and PlayStation 3. I love these kinds of free samples, especially since games cost $60 (try before you buy!) and the idea of sounds creepy cool. In one demo episode, a creepy enemy from the Treehouse of Horror IV comes back to life. With Kent Brockman providing commentary from a helicopter, it's up to Homer and Bart to work together to bring a monstrous mechanical man to his knees.
Read More