Fox Drains Buffy Sing-Alongs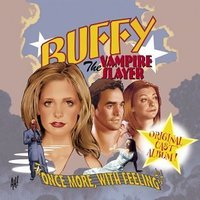 Fox has never been kind to Joss Whedon or his fans. The nearly stillbirth then post-uteral abortion of Firefly still rankles nearly everyone who ever caught an episode. But now Whedon fans have a new reason to shake their fist at Fox: they have unceremoniously axed musical sing-a-longs of the Buffy The Vampire Slayer episode "Once More With Feeling."
For those who aren't familiar with it, "Once More With Feeling" is a musical episode of Buffy where most of the plot and dialog is done through song. I've never been quite impressed with the execution, but I admired the attempt.
Since Buffy left the air, the episode has become more and more popular, Rocky Horror Picture Style, thanks to fan-sponsored sing-alongs at local movie theaters, where fans showed up dressed as their favorite Buffy characters for charity.
Fox is claiming that the licensing company that gave the green light for the sing-alongs had exceeded the show's licensing agreements. I don't doubt that's the case, but you'd think they'd do more to try to placate sci-fi fans, especially when these are sci-fi fans Fox has not only screwed over multiple time in the past, but fans just trying to sing-along to their favorite show to raise money for those in need. Bad publicity worth far more than the licensing rights on a single public showing of a long-dead television show.
Buffy's Whedon Reacts To Fox [Sci Fi Wire]
Read More