Fantastic Fest: In A Word, Fantastic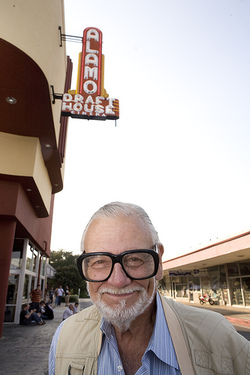 Fantastic Fest 2007 has come and gone and it was, without question, the finest film festival I've ever attended. Fantastic Fest is a week-long festival held in Austin, TX featuring the best in new
science-fiction, fantasy, horror, animation, and all
around badass cinema. The event was created to offer exposure to genre
films which are often overlooked by the traditional festival circuit.
Fantastic Fest is held each year at one venue, the
Alamo Drafthouse Cinema, named the best cinema in America by Entertainment
Weekly, and features food and drink served to your seat without any
disruption of the movie experience.
It all wrapped up Thursday night with a surprise closing night screening of Paul Thomas Anderson's There Will Be Blood – an excellent film that's sure to be a major Oscar contender. At the closing awards ceremony, Nacho Vilalondo's Timecrimes won top honors and Sion Sono's Exte: Hair Extensions won the horror competition (check out a full list of winners here).
After spending eight days in Austin seeing awesome movies, eating great food and meeting wonderful people, I've decided to hand out a few awards of my own, so click on the link below for the AMC Monsterfest Blog Fantastic Fest 2007 Awards for my picks of the best of the fest. And I ain't just gonna be talking movies here!
Best Movie
George A. Romero's Diary of the Dead – Even There Will Be Blood couldn't match the joy I felt for the return to form of a master American filmmaker. Welcome back, George.
Grossest (and Most Audacious) Moment
A "family portrait" in Maurice Devereau's End of the Line that justifiably brought the house down.
Emerging Talent Award
Five Across The Eyes, a nasty little surprise worth seeking out.
Best Comedy
Daniel Waters' Sex & Death 101, a nice comeback for the writer of Heathers.
Goriest Movie
Inside
Action Star of Tomorrow Award
Mirageman and Kiltro star Marco Zaror
Best Dancing
Timecrimes director Nacho Vilalondo's "Swastika Dance"
Fantastic Fest Guest Most in Need of a Chill Pill
Funniest Thing Uttered By a Fantastic Fest Guest
Sex & Death 101 star Simon Baker, eager to see a Rugby match in his home country of Australia, asking audience members if any of them has Direct TV and if he can come over to their house to watch the match. He was completely serious and offered to "autograph your Land of the Dead poster for you and do my George Romero impression" if they said yes (he eventually found a bar that would accommodate him).
Best Bottle-Opening Technique
Wrong Turn 2 director Joe Lynch
Best Non-Film Event
Fantastic Feud, hosted by Cinematical's Scott Weinberg, a veritable cornucopia of geekdom and drunkenness followed by an all-night Karaoke party that will never be forgotten and should never be broadcast on You Tube.
Read More