Falling Into the "Slipstream" Trailer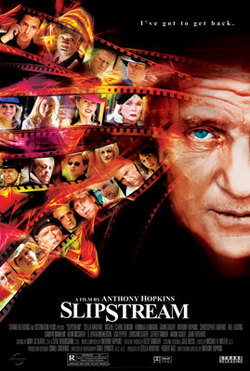 Not every horror movie is driven by homicidal, knife-wielding maniacs and buckets of fake blood. Some of the most terrifying tales get inside your head and swim around in your unconscious. Like the rampant paranoia of Invasion of the Body Snatchers, Slipstream seems to play on your assumptions and perception of "reality." Directed by Sir Anthony Hopkins, who starred in your nightmares as Hannibal Lector, and stars along side Christian Slater, John Turturro and Lisa Pepper, the film is a dream within a dream, within a movie, inside a writer's head. At least, that's what you get from the trailer that landed on Yahoo! Movies.
As a director, Hopkins is clearly taking a cue from David Lynch — who has created terrifying, surreal works like Eraserhead , Blue Velvet and INLAND EMPIRE — the retro-vibe, the diner, bizarre imagery, and a hot blonde who seem much too happy. The Invasion of the Body Snatchers reference is intriguing, if a bit over-played, at least in the trailer. The film is slated for an October 26 release date, it's a shame we haven't heard much about it.
Read More