EW Loves The Walking Dead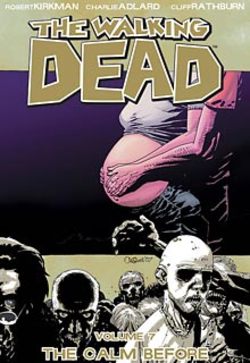 The one really good thing about Entertainment Weekly is that it occasionally reviews cool comic books. This week, Nisha Gopalan gives the score of an 'A' to The Walking Dead, Issue #7, which is not only creepy, it, like, deals with deeper issues in addition to deep tissue.
The deal with the serial comic? "Four years ago, writer (Robert) Kirkman (Invincible) debuted this
tale of a small-town cop who rallies together fellow humans in wake of
a zombie plague. Since then, he's transformed what should've been a
hackneyed horror-thriller into a drama about society, morals, and
self-preservation. In this installment, our heroes break free from a
tyrannical community of fellow survivors, then prepare to welcome a
baby into their twisted world." For more artwork, check out deft artist Tony Moore's cover art gallery.
Read More