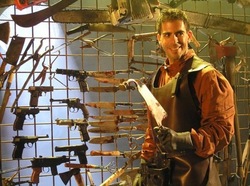 Not ready to abandon the genre just yet, Hostel director Eli Roth is interviewed in this week's issue of The Onion's A.V. Club in a piece called "24 Hours of Horror with Eli Roth". In the piece, Roth details his choices for a 24 hour horror marathon, which include such favorites as The Thing and Suspiria and more offbeat fare as The Vanishing (original Dutch version, of course) and Sergio Martino's Torso.
Roth obviously has done this sort of thing before, as he tells The Onion's Kieth Phipps: "Well, usually when you're doing a 24-hour marathon, noon-to-noon works. You can go midnight-to-midnight, but starting at midnight never really works. If you start at noon, you're kind of ready for it. You've had a huge breakfast, you slept a lot the night before, and you get the afternoon. You can start off with a couple of slower films, have a short break for dinner, then get into the harder stuff. The last two or three movies are usually pretty delirious." Having done a few of these things myself, I have to concur with Roth, although he doesn't acknowledge that you're gonna doze off at some point, so you should program at least one loser in there. But I guess that's just me.
And speaking of 24 hour horror marathons, just a friendly little reminder about this weekend's 24 Hour Exhumed Films marathon in Philadelphia, which I will be attending. Look for me in the front row with the other freaks. See ya there!
Read More