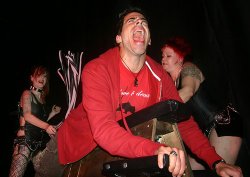 OK, maybe I'm exaggerating, but is the Hostel director turning his back on the genre that made him famous? CHUD reports that may indeed be the case.
Over the last few months, Roth has been getting slammed hard from Hollywood gossip columnist Nikki Finke over Hostel and the whole "torture porn" debate. Finke even went so far as to claim "victory" over Roth and genre by saying it was her badgering of the genre that was responsible for Hostel Part II's disappointing box office.
Well, imagine her surprise when an e-mail from Roth showed up in Finke's mailbox the other day. Instead of picking a fight, Roth took the high road and told the aptly-named Finke that "As far as violence goes, I think at this point I've pushed the boundaries of horror as far as I can, and it's someone else's turn to take over spilling blood and guts. I have new challenges and much more ambitious ideas that are not horror related that I'm working on, as well as other artistic endeavors outside of film… I'll always love horror and I'm sure I'll make more horror movies, but once you've spilled that much blood, you kind of have it out of your system and look for other ways to make audiences scream and cheer and vomit."
On one hand, I think Roth is a talented filmmaker who more than likely has the ability to make good films in no matter what genre he sees fit. However, I was kind of hoping that he would make a Hostel Part III just to piss off the Nikki Finkes of the world and to say to them, "Don't tell me what to do or what kind of movie to make". Roth's films may not be the best the genre has to offer, but they're smarter and more entertaining than Finke gives them credit for. If we have to have critics like Finke slamming this genre, it's nice to have guys like Eli Roth around who know how to best tell them to stuff it.
Read More