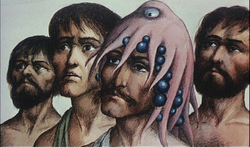 Along with the Stanley Kubrick box set featuring 2001: A Space Odyssey, the big DVD news of the week is the re-release of Fantastic Planet, the classic 1973 animated film. If you came of age in the 1970s, you may have fallen in love with it at a midnight arthouse screening. If your era was the 1980s, you might have first seen it in one of numerous showings on the cult cable show Night Flight. It was also available on video in poorly transferred copies on different labels through the 80s and 90s.
When it was finally released to DVD by Anchor Bay in 1999, fans were upset at the lackluster image (Anchor Bay's VHS release actually looked better!) and by the fact that if you watched the English language version you couldn't remove the English subtitles, which were often mismatched.
The good news is that the new version remedies some of these problems. It's in widescreen, and while the film hasn't been digitally restored it looks sharper than the Anchor Bay edition. The subtitles are now removable, and you can watch it in either English or French. And the disk includes a new 26 minute documentary on director Rene Laloux.
Drawbacks? While the DVD includes Laloux's short film "Les Escargots," it lacks the two other shorts that were on the Anchor Bay version. Of course, now that a new edition is available prices for used copies of the Anchor Bay release are coming down in price (they were selling for up to $100 at one point), so fans may now be able to afford copies of both. For viewers who have never seen it at all, though, the new version is sufficient to introduce you to one of the most memorable movies in sci-fi and animation history.
Read More