Drop Dead Gorgeous: The Lost Art of the Pretty Corpse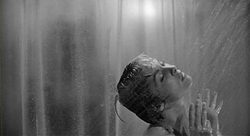 There was a time – back in the early '90s when David Fincher was hitting his stride – when the sight of a pale cadaver in a bag with a zipper on it still carried some shock value.
How long ago that time seems today. Even with Six Feet Under dead and gone, it's hard to turn on the television without seeing one of these carefully crafted we're-not-being-romantic-this-is-what-they-actually-look-like style corpses staring back at us.
The reasoning behind the current vogue for mortuary realism is pretty straightforward. For years, TV and movie audiences were treated to dead bodies that were, in their various ways, cinematic. They were scary sometimes, but not in the decidedly gross, ordinary, and un-cinematic way that an ACTUAL dead body is. So it was really only a matter of time before someone decided to go against cinematic instinct and show a stiff, clinical, un-romantic dead body onscreen. One that looked not just pretend nasty, but nasty in the way that your uncle Harold looked when you caught a last glimpse of him before the undertaker arrived.
Don't get me wrong. I appreciate a realistic cadaver as much as the next person. But I also sometimes hanker for the days of the old-style corpse: the kind with bug eyes and mouth agape that could be counted on to fall out of a closet or flop across a windshield just when whatever heroine was in question was least expecting it to.
My personal favorite corpse in all of horror cinema? It would have to be Janet Leigh's face-on-the-bathroom-floor turn as the dead Marion Crane in the original Psycho. Watching the scene in which Hitchcock's spiraling shower drain slowly fades into Janet's unblinking eye (as I had a chance to do on AMC this past weekend), I always marvel at how much is telegraphed in Janet's seeing-yet-un-seeing stare. For me, the whole mystery of what fascinates and repels us about death is looking/not looking back at us in that scene.
Ironically, at the time of its release, that shot was the exact equivalent of the shocking-in-their-ordinariness cadaver images we're so besieged with today. To mush a famous actress's face against a bathroom floor back then – even in a really nice, cinematic way – was totally playing against the rules, just as were the later (and equally aesthetic by today's standards) shots of the chagrined Norman cleaning up his mother's handiwork by wrapping Janet's body in Cabin One's shower curtain and throwing it in the trunk of her car.
Come to think of it, those shots of Norman carrying Janet's curtain-wrapped body were the real precursors of all the bodies-in-plastic shots that we see today. Little did viewers know back then, as they gasped at Hitch's tastelessness, how genuinely tasteful — pretty, even — everything they were seeing really was.
Read More