Demons to Some, Angels to Others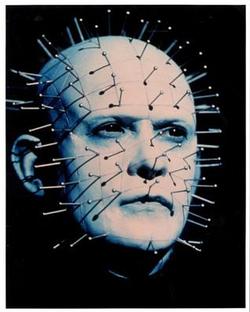 "It's just a puzzle box," Kristy yells at the four grotesque demons — one with chattering teeth, an overweight slob, a woman with an exposed jugular and a man with pins in his head. These are the Cenobites — demonic angels summoned by a puzzle box — and they rule the Hellraiser universe. Once human, these creatures of pain and pleasure had unlocked the puzzle box or had been recruited by the leader of the Cenobites, Pinhead.
While Pinhead controls the ominous hooks on chains, one of the most terrifying weapons of torture, the other Cenobites are no pushovers. The mutated Chatterer (a.k.a. Chatterbox) rattles nerves, Sister Nikoletta's slit throat gasps and Butterball's insane obesity sickens. Of course, as the series grew more ridiculous, so did the Cenobites — specifically, my personal favorite, the CD-throwing Cenobite from Hellraiser III: Hell on Earth.
Whether you're down with the hokey Hell demons or are more serious about your horror, everyone has their own favorite. So vote and represent. And don't forget to check out Hellraiser and Hellbound: Hellraiser II on Monsterfest.
Read More