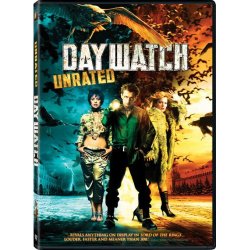 It's official: Day Watch, the sequel to the Russian megahit fantasy epic Night Watch, will be released on DVD in the US on October 30.
What's that you say? It never even played at a theater in your town? Mine either, though it was previewed for press. According to Box Office Mojo, Day Watch played on a maximum of 64 US screens during its brief release over the summer, grossing a mere $129,000 in its first ten days and less than half a million overall. (In Russia, it earned $35 million.)
Of course, as fans of the films based on the series of sci-fi/fantasy novels by Sergei Lukyanenko point out, the film was hardly given a big push by distributor Fox Searchlight. Some say that they never even knew the film had played in their city because of the lack of advertising. And with a big special effects film like this, it's a shame not to get a chance to see it on a theater screen. (I've seen it both ways, and the big screen makes all the difference.)
Despite the box office failure of Day Watch (hardly the fault of the film itself), the third part of the trilogy, Twilight Watch, is still listed as being in production, with an expected release date of 2008. Of course, it remains to be seen how much the production involvement of Fox (who only distributed the first two films) will make a difference, with fans arguing whether the new film will be a continuation or a remake aimed at a wider American audience.
Read More