Crazy, Creepy, Cool Miss Horrorfest Finalists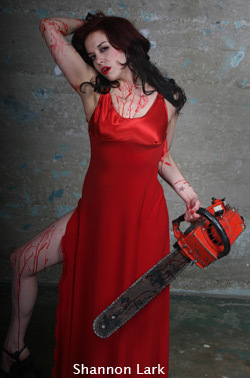 Fangoria just posted a passel of pictures of the After Dark Horrorfest Finalists for 2007. Since I'm a Texas Chainsaw Massacre fan, I'm partial to young Miss Shannon Lark, even though her blood spatters don't look like they spattered naturally.
You can also check out all 78 contestants, showing off why they should be queen via horror vignettes at this YouTube link. Some of the losers' videos are more worthy than those of the finalists which were eventually chosen by viewers. BTW, the Killer Ribs girl really is scary (even though the audio stinks).
Read More