Coppola Disses DeNiro, Pacino and Nicholson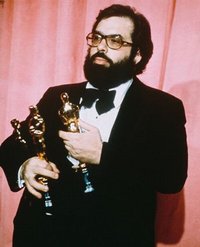 Director Francis Ford Coppola has some harsh words for three of the actors who rose to prominence at the same time he did. Interviewed in GQ Magazine, Coppola accuses Jack Nicholson, Robert DeNiro and Al Pacino of having grown lazy as they've grown older, content to "live on the fat of the land."
While you might or might not argue with Coppola's view that none of the three top actors of their generation bothers to push themselves anymore (you can read more of his remarks here), you have to ask, Who is he to talk? Certainly he was ambitious when The Godfather made him an 800 pound Hollywood gorilla, able to pursue any project he wanted. And at first his career seemed filled with endless promise: following The Godfather with The Conversation and The Godfather Part II, he seemed on the verge of becoming a director as important to the post-Vietnam generation as John Ford and Frank Capra were to theirs.
But after the well-publicized difficulties of Apocalypse Now, Coppola never seemed to regain his footing. His attempt to launch a new film studio, American Zoetrope, foundered, and he turned to doing a lot of work for hire that seemed to waste his creative spark (though the films in which he was reputedly personally invested, like Tucker, seemed merely overwrought.)
Since 1997's The Rainmaker, his only work behind the camera was some uncredited reshaping of 2000's disasterous Supernova. He's otherwise spent the new century cultivating his wine and hotel businesses.
Coppola has a new film, Youth Without Youth, scheduled for release later this year, and we certainly hope it's a return to form. In the meanwhile, let's hear what you think: What was the last film Coppola could be proud of?
Read More