Christopher Lee Teaming Up With Robert Englund?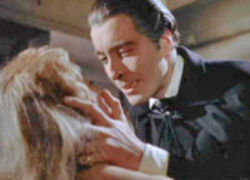 Boy, was I glad I looked at Fangoria today: they're reporting the news of the legendary Christopher Lee possibly teaming up with Robert Englund: "I am off to London soon," Englund tells us,
"where I'm having a meeting with Christopher Lee to star in a movie
which I'm directing in Italy in November. It is based on a short story
by Nikolai Gogol called The Viy, " which previously inspired a 1967
Russian feature and a remake currently in
postproduction.
"The Viy is a creature of Russian/Ukrainian folklore,
and it's somewhere between the Djinn of Wishmaster and a fallen angel
from purgatory. He has stepped on God's toes and has to go to Earth,
and is pretty cantankerous. We're hoping to use some of the sets that
were left over from The Passion of the Christ." Actually, Gogol's story was written way back in 1835. The Viy, FIY, was also known as The King of the Gnomes. (Wasn't that Napoleon?)
Read More