Child's Play: Another Day, Another Remake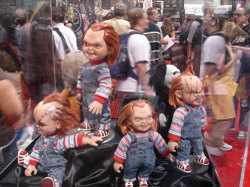 I'm not saying that Child's Play was the best horror film of all time. But it had its moments of fear and terror, especially if you were the kind of person who thinks puppets are horrifying. Instead of making another Chucky sequel, they're going to go back in the day and remake the original.
According to Shock Til You Drop, producer David Kirschner says, "We're discussing it with Don Mancini, who has written all of them with
us from the beginning…The next one we're going to
do is we're going back and remaking the first one and even pushing it
further and making a very terrifying version of the first one, which is
pretty scary as it is."
"We haven't come up with anybody yet," he replied when asked whether
they were looking at any of today's cutting-edge horror directors. "We
haven't really discussed that. We've just been working on stories, so I
think that'll be a fun process when we get there." One thing's for sure: it's not going to be Tom Holland.
"Of course, the age-old question of "Why?" immediately came up. "Look at
'Halloween'," he quickly responded. "It's kind of commerce to keep the
franchise going, and another reason to go see it. For me, it's
exciting, because the first one was really scary and then from there,
we kind of… my favorites are 1 and 4. I love 4, it really makes me
laugh and I think Jennifer Tilly is so great, but just the idea of
going back to where we were the first time around and I think for me,
it's almost 30 years later for me as a filmmaker from where I started
to now, and the idea of taking some skill that maybe I didn't possess
then and putting it towards the next film, I think could be exciting." Hey, at least he's being honest. And, well, if they actually can make it scarier, I'm in. But on this one, I'll wait until the reviews are in before I plunk down my cash.
Read More