Charlie's Angels Meet the Terminator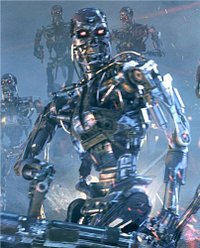 The latest Terminator 4 rumor is that a certain director is currently being courted by the producers. And while it will take little skill to find a bigger name than Terminator 3's Jonathan Mostow to continue the franchise, can they possibly find someone who matches the sci-fi cred of James Cameron?
As it turns out, they are not even going to try: the director they are courting for Terminator 4 is the stupidly named McG, director of the Charlie's Angels films.
My guilty confession, made as I stare at my feet and shuffle awkwardly from side to side, is that I liked McG's Charlie Angels pictures. More unrepentantly stupid fluff you'd be hard to find, but the action was exciting and it made up for what it lacked in intelligence with a frenetic goofiness that was downright charming.
But this isn't the quality I'm looking for in my Terminator films. Terminator films should be weighted with dread: dread of a future that can not be stopped, dread of the impotence and mutability of free will and, most of all, dread of cyborgs that will not stop, ever, until you are dead.
That's not to say McG can't pull it off, but if we're just going by pseudonyms and past work, I'm guessing McG is a bit too much of a hipster doofus to pull it off.
McG in Negotiations to Direct 'Terminator 4?' [Cinematical]
Read More