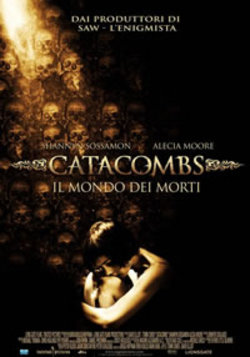 You know it's going to be a hell of a Halloween with Monsterfest, with 30 Days of Night, with the Hellgate: London and Hellraiser games. Now come the word that Shannyn Sossamon's Catacombs will finally be dusted off to land … in your computer via the Web — for free.
I'm a fan of Sossamon's creepy characters, everything from the ghost on Dirt to The Order. (I won't even say anything mo' bad about about her new show, Moonlight.) I met Sossamon back in the day when she was spinning disks as a DJ (at a Sony party), and I've loved her work ever since.
And the idea for Catacombs is a good one: if you've ever visited the Parisian caves beneath the city's streets, you have to be moved, if not grossed out, by the thousands of skeletons lying there. Says IMBD about the plot, "On her first trip to Paris, a young woman hits a party in the
Catacombs, the 200-mile labyrinth of limestone tunnels under the city
that's lined with the remains of 7 million people. Separated from her
friends, she becomes convinced that someone or something is chasing her."
You can see a trailer and download some goodies right now on FEARnet. But you'll have to wait until October 31 to watch the movie online.
Read More