Can Anyone Stop the Horror Remakes?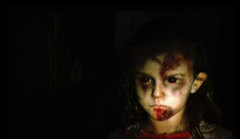 We all know that this remake business is getting out of hand. While remakes of classics such as Hellraiser and Friday the 13th come as no surprise, a remake of the 2007 Spanish zombie chiller [REC] is already in the works — despite the fact that the original feature still hasn't picked up an American distributor. John Erick Dowdle (The Poughkeepsie Tape) is tapped to direct, according to always-reliable IMDB, and Bloody-Disgusting.com has confirmed that John and Drew Dowdle will be taking writing credits, while Almost Human FX (Vacancy) will do the special effects work on the project.
The remake plot is like a dubbed copy of the original [REC]. A reporter and camera man follow a pair of firemen on rescue call that turns out to be more horrifying than they could imagine. The remake is set to begin production early next year. Hopefully, the original will pick up a distributor, theatrical or DVD, before the remake infects theaters.
Read More