Butcher Bros. Remake April Fool's Day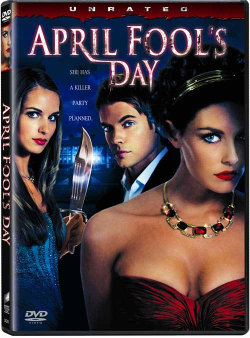 Sony's got this tasty new distribution company called Stage 6 which hopes to unleash 10 to 15 flicks every year. The budgets are about $10 million each, so that means some of these will be going straight to DVD. Along those lines, Stage 6 just made a deal with the Butcher Brothers (the guys who made The Hamiltons) to redo April Fool's Day. (The original movie wasn't great, but I do love the poster.)
Says The Hollywood Reporter, "The new April Fool's revolves around a party given
by two uber rich siblings, played by Taylor Cole (Supernatural) and
Josh Henderson (Desperate Housewives), for their friend (Scout
Taylor-Compton of Halloween). Tragedy strikes when a friend falls
over a balcony and dies. One by one, each partygoer is found dead."
Butcher Brother Phil Flores says, "It's pretty much contemporized, with off-beat humor, different settings — something that would jell with today's audience." Hmmm: will this be different enough to warrant buying a ticket? Do the Butchers have the stuff to make April Fool's Day truly new and innovative? Stay tuned.
Read More